RMA Games Collection
A downloadable game collection for Windows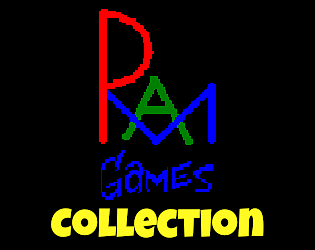 Dive Into 7 Classic Games!
Relive your childhood or discover a brand new one as you enjoy classic games developed by RMA Games in the mid-2000's!
Take flight as you experience the award winning Dragon Adventure! Lead young Dagor on an epic quest about making bold leaps and not turning back as he journeys through six unique worlds to reach his evil uncle who took over his home! Experience the grating but unique sound track created just for this tale, and enjoy the nigh-unreadable in-game text! This incredible adventure is sure to leave a lasting and meaningful impression on you.
Move your fingers as you dance through the MIDI tunes of Timeit 2! Time your key presses carefully as you watch the arrows move up the screen and try not to let the lack of rhythm syncing with the music distract you! This classic game is kind of like Dance-Dance Revolution, but without any of the rhythm required—just get the timing right, and you're golden! Progress through 3 stages of increasing difficulty and intensity to reach the boss and win!

Choose wisely as you muddle through the arbitrary mazes of Warped! Lead the snowman back to its snowy home by hopping through warp gates, but be careful! Choosing the wrong one will send you back to the beginning!
Plus several other smaller bonuses like the original Dragon Adventure demo and Timeit Mouse Edition, the precursor to Timeit 2!
About
RMA Games (link to web archive with no images) was my first personal foray into game development back in high school between around 2004 and 2005 using Game Maker 4. Most of the music and assets were taken from other places, though Dragon Adventure contains the most hand-made/modified assets. The games are truly not great, but they're a fun look back at where I started.
I re-discovered these games recently as I was looking through an old external hard drive, and I didn't want to lose them again. The hype in the descriptions above are certainly jokes, but I'm honestly pretty proud of what 15-year-old me was able to accomplish, and it led me down the path of making some real things 10 years later.
I hope I'm able to continue on this path and make some even better stuff farther down the line.
How to Play
The download for this collection is a .zip folder that contains sub-folders README.txt files and the game's executable. Read the README to learn more about the game, and read the in-game instructions to learn how to play each game.
The executables themselves were created on a Windows XP machine using Game Maker 4, which should mean they'll run on just about any Windows machine (I tested them on my fully-updated Windows 10 machine and a Windows 7 machine and they were all fine), and I bet it will run in Linux with probably any version of WINE.
Just unzip the file and run the executable, and it should launch the game!
Download
Click download now to get access to the following files:
RMA-Games-Collection.zip
10 MB