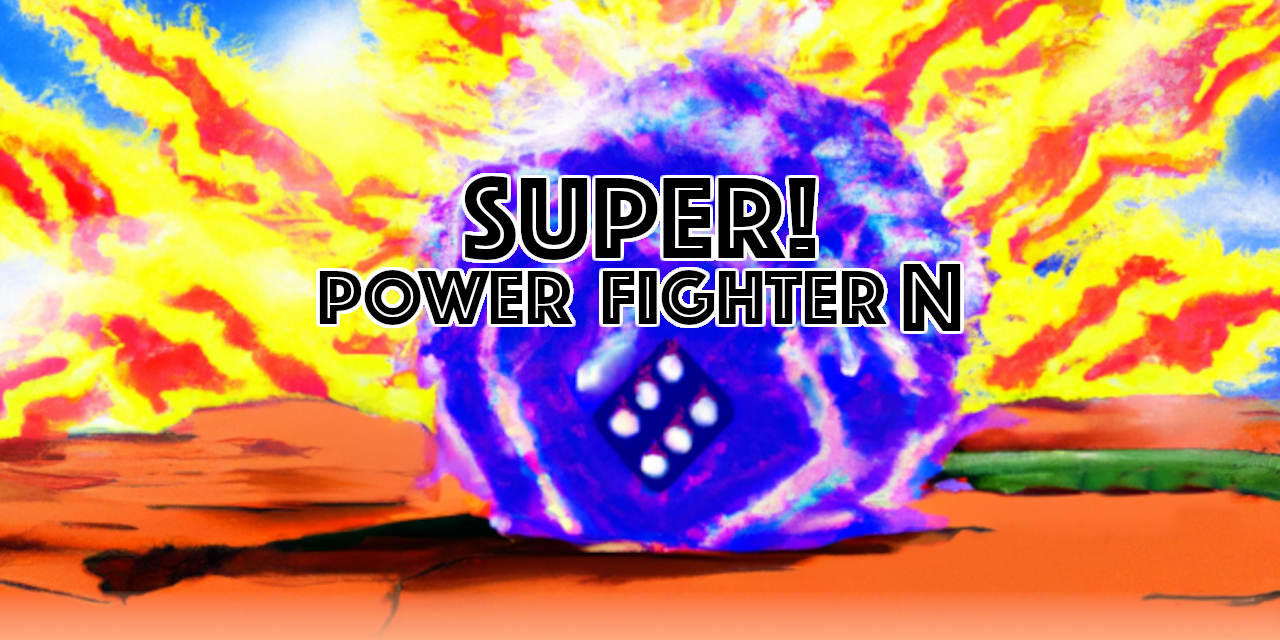 SUPER! Power Fighter N
The world is being threatened by a terrible and powerful foe!
Can you defeat the villain and save the world from destruction?
SUPER! Power Fighter N is a single-page tabletop RPG inspired by beloved shows from Japan like Dragon Ball Z, Gurren Lagann, or myriad other sentai series with over-the-top action and increasingly ludicrous feats of strength—Stories where your true power comes from within!
Practically infinite scenarios are crammed into a single page of carefully-written and deliberately-phrased rules. Recreate your favorite battles or generate your opponent with dice to experience altogether new ones with just a handful of six-sided dice and your imagination, and feel the rush of pulling off insane power moves against an impossibly powerful foe!
SUPER! Power Fighter N is easy to learn, quick to play, and designed to keep you on the edge of your seat. Every roll has a chance to cascade into more and more rolls, creating bigger and bigger attacks, but beware! The villain's attacks can be just as powerful—often even more so! You'll need to work together with your friends and use the power of your Heart to stand up to your dangerous enemy. Together, you'll discover the true meaning of heroism and learn what you're truly capable of when you believe in yourself.
Are you ready to step into the world of SUPER! Power Fighter N and become a hero? The fate of the world depends on you, and
only you can unlock the power within!
---
Frequently Asked Questions
What if I want to play as XYZ character?
Your fighter's appearance makes no difference beyond your own personal enrichment, but if you want to play a specific ultra-strong character from somewhere, ask your narrator if it's ok and set your stats accordingly if so!
I want to do a Spirit Bomb!
That's not really a question, but you can! If you build an energy attack up to be big enough by spending all your Heart points, that's pretty much the equivalent of a spirit bomb! You can describe any of your attacks however you want. (Just be careful—spending all of your Heart points means you can't use Heart anymore!)
You can spend Heart points to come back from being dead?
Correct! Just like the anime it's inspired by and its many parodies, you can push through mortal blows with sheer determination! Any Heart points you don't spend on powering up your attacks can be treated like extra lives in a video game.
Wait, did you say you can spend all your Heart points?
That's right! The rules only say you can spend them, use them if you roll the value or lower, and add to them if you roll the value. If you use all of them on bonus rolls or revivals, it becomes impossible to roll 0 or below, so you can't use anymore. But what if that last bonus die or that last life finishes off the baddie?
Likewise, if your Heart stat is 6 or above, you will always succeed at your Heart roll, but you max out your Heart stat at 7 because you can't roll a 7 with a 6-sided die. Also note that just because you succeed on your Heart roll when it's at 6 doesn't mean you shouldn't roll it—there's a chance you'll roll 6 and bump it up to 7!
The description above mentions Gurren Lagann—how can I use this for mech battles?
Simply swap out "Fighter" with "Mech" and imagine your foe as 100+ feet tall, and you're already halfway there! As mentioned above, your appearance doesn't affect the gameplay, and your attacks can take any form you wish, so the rest is up to your imagination.
Do the characters have to be humans/humanoid?
Certainly not! I carefully worded everything in the document to be ambiguous regarding setting. "The world" is in danger, your "fighter" battles, and even the "Regular person" option for your foe don't necessarily refer to humans on earth!
What's with the "N" in the name?
I wanted to evoke "Dragon Ball Z," and if you squint real hard and turn your head to the right, "N" is "Z" sideways!
That's it? It's a weird joke?
Yep!
I have a question not addressed here!
That's not a question either, but please leave any questions you have about the rules in the comments section below! I'll answer it there and add it to this list if it seems important to call out.

---

SUPER! Power Fighter N by Robbie Antenesse is licensed under a Creative Commons Attribution-ShareAlike 4.0 International License.
Download
Click download now to get access to the following files:
SUPER! Power Fighter N (A4 PDF)
72 kB
SUPER! Power Fighter N (US Letter PDF)
72 kB